Renata Rimšaitė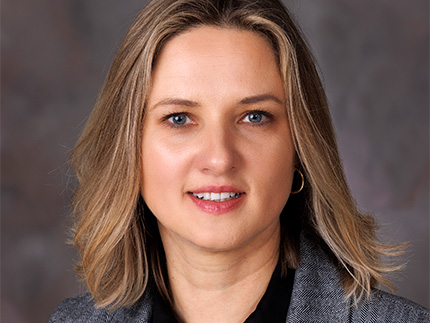 Renata Rimšaitė (she/her) is an economist with expertise in water management policy. As a senior program manager, Renata develops, manages, and oversees programs focusing on improving food and water security. She is particularly interested in emerging research and engagement areas around intersections between agricultural water use, sustainable finance, climate change, and public health. Renata is especially excited about building new relationships and advancing existing partnerships and collaborations with internal teams across the University of Nebraska system, as well as with external stakeholders in the public and private sectors.

Renata has been affiliated with the Daugherty Water for Food Global Institute (DWFI) since 2019. Prior to her current position, Renata was a water markets program manager at DWFI and the National Drought Mitigation Center focusing on advancing drought and agricultural water management policies.

Originally, Renata is from Lithuania. She holds a doctorate in Agricultural, Environmental and Regional Economics (Pennsylvania State University), a bachelor's degree in Economics (Frostburg State University), and a bachelor's degree in Law (Mykolas Romeris University, Lithuania).

COOKIE USAGE:
The University of Nebraska System uses cookies to give you the best online experience. By clicking "I Agree" and/or continuing to use this website without adjusting your browser settings, you accept the use of cookies.