Lameck Odhiambo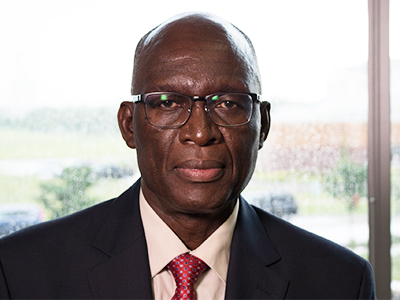 Irrigation Specialist
Lameck Odhiambo's expertise is in irrigation engineering and water management. He works jointly with DWFI, the University of Nebraska-Lincoln's Department of Biological Systems Engineering and the Office of Global Engagement within the Institute of Agriculture and Natural Resources. He joined DWFI as irrigation specialist in March 2017 and has been at UNL since 2008.
Odhiambo studies evapotranspiration measurements and modeling, develops deficit irrigation strategies, evaluates tillage practices on crop water-yield relationships and uses water metering in irrigation management. He also works with small-scale farmers to develop and implement sustainable crop production under shared center pivot irrigation systems in sub-Saharan Africa. Originally from Kenya, Odhiambo finds it rewarding to work on projects with Africa's smallholder farmers that have high potential to improve their social-economic well-being through improved crop production using modern irrigation technologies.
Odhiambo holds a technical science doctorate in irrigation engineering and water management from the Asian Institute of Technology in Thailand, a master's degree in soil and water engineering from Seoul National University in the Republic of Korea and a bachelor's degree in agriculture from the University of Nairobi, Kenya.