Lacey Bodnar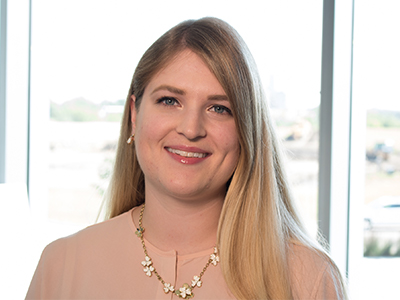 Research Project Manager
Lacey Bodnar joined the Daugherty Water for Food Global Institute (DWFI) in August 2017. Her responsibilities include executing research and technical transfer projects, coordinating and evaluating the progress of ongoing research projects with partners, assisting in proposal development and administering the visiting scholars program. Lacey uses her collaborative project management skills to facilitate DWFI's local, national and international research projects, tailoring them to the needs of diverse stakeholders.
Previously, Lacey worked as a drainage engineer in Texas, where she led discussions at regional conferences on civil engineers' ethical responsibilities when developing in areas prone to natural disasters. Lacey also served as a project manager for the Texas Water Development Board, where she managed projects valued at over $225 million. She enjoyed working with Texas communities, local governments, and other professional scientists, engineers, financiers and lawyers to successfully implement projects enabling reliable and safe water distribution and wastewater treatment.
Lacey is a native Nebraskan, and an alumna of the University of Nebraska-Lincoln's Water Science program and the Texas A&M Civil Engineering Department.