Ferdinand Turatsinze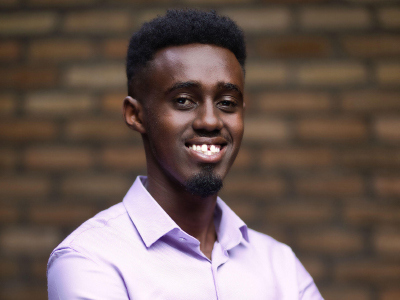 Ferdinand Turatsinze joined The Daugherty Water for Food Global Institute (DWFI) as a program consultant in August 2020. He consults on the development and implementation of international projects related to entrepreneurship, innovation, and agriculture. He develops partnerships with public and private partners and coordinates programs to improve access to irrigation for smallholders. He enjoys connecting with people and building long-lasting relationships.

Ferdinand is the co-founder of the Future Agriculture Leaders (FAL) organization, which seeks to educate aspiring entrepreneurs in innovative and creative ways to bring lasting change in agriculture. He helped develop the organization's structure, solicit financial support in corporate sponsorship, and create an annual summer camp program alongside the DWFI policy team.

Ferdinand is originally from Rwanda, and he holds a bachelor's degree in Integrated Science with a concentration in Agribusiness and Entrepreneurship from the University of Nebraska-Lincoln (UNL).
COOKIE USAGE:
The University of Nebraska System uses cookies to give you the best online experience. By clicking "I Agree" and/or continuing to use this website without adjusting your browser settings, you accept the use of cookies.