David Munyaneza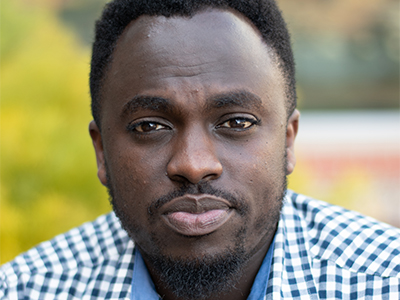 Communications Specialist
David Munyaneza joined the Daugherty Water for Food Institute as a communications specialist in October 2021. He develops and manages visual communication strategies and produces multimedia output to inspire engagement around water policies and agricultural entrepreneurship and innovation in Nebraska and globally.

David is also the founder and director of a multimedia organization, The Giants Pictures, which amplifies people's voices and stories and develops brands through visuals. He leads the organization's vision, strategy, management team, and business operations and development. Since 2017, through his organization, David has worked on a variety of video and photography projects as a photographer, producer, and director. He has helped several farmers in Rwanda and upcoming entrepreneurs in the US share their challenges and success stories, created and managed multimedia channels for their effective communication.

Moreover, David is the co-founder of the Future Agriculture Leaders (FAL) organization, which seeks to educate aspiring entrepreneurs in innovative and creative ways to bring lasting change in agriculture. He helped develop the organization's structure and communications strategy to ensure the organization's values are conveyed effectively.

David holds a bachelor's degree in Integrated Science with a concentration in Environmental Science and Agricultural Communications from the University of Nebraska-Lincoln. He also studied Electronics and Telecommunication Engineering at the University of Rwanda. David believes that visual storytelling, which he has chosen as a career, has the power to bridge the gap between farmers, consumers, producers, and scientists.
COOKIE USAGE:
The University of Nebraska System uses cookies to give you the best online experience. By clicking "I Agree" and/or continuing to use this website without adjusting your browser settings, you accept the use of cookies.