Today, around 500 million farmers live on less than two hectares. These smallholders generate between 30-34% of the global food supply and thus play a key role in improving food security, protecting crop and biological diversity and ensuring the sustainable intensification of agricultural systems. Small-scale farmers face significant challenges, including competition for water and reliance on unpredictable rain to grow food.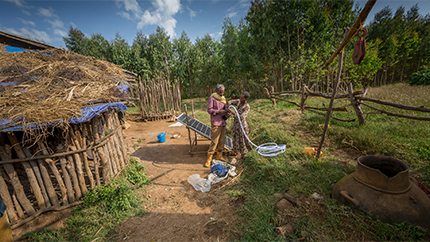 Additionally, weather-related disasters – such as floods, droughts, and heat waves – are increasing in frequency and intensity. As a result, over 400 million people are expected to be vulnerable to yield losses under climate change, requiring urgent adaptation action. The Global Commission on Adaptation (2019) and Malabo Montpellier Report (2019) highlight the urgency for innovative water and renewable energy solutions to transform agricultural production systems amid a changing climate. Now in the face of global pandemic, enhancing the resilience of farming communities to shocks and stresses while providing water, food and nutrition security has never been more important.
The World Food Program indicates that additionally 130 million lives and livelihoods will be at risk. Aside from the challenges rural populations face in terms of safe and clean water access, national response and mitigation measures may indirectly cause market disruptions that impact food and nutrition security. These negative impacts enforce the urgency to increase multiple-purpose water access and local community resilience.
Farmer-led irrigation development (FLI) has the potential to sustainably and effectively improve the lives of small-scale farmers. It may also pave the way for inclusive economic growth, improved livelihoods, and increased food and nutrition security – while supporting the transformation of food systems toward more efficient, sustainable, and climate resilient production. Recently, the African Union identified FLI as one of the four pathways to support Comprehensive Africa Agriculture Development Programme (CAADP) and the Agenda 2063 objectives.