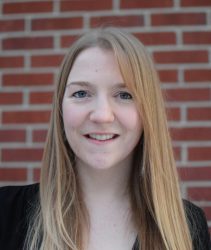 LINCOLN, NEBRASKA–Kate Gibson, program coordinator at the Robert B. Daugherty Water for Food Global Institute, has been accepted into the Nebraska Water Leaders Academy. She holds two B. S. degrees from the University of Nebraska-Lincoln (water science and environmental restoration science) and Master of Science degree in agronomy also from UNL.
The Nebraska Water Leaders Academy is one-year program that provides leadership training and educates participants about the vital role of rivers, streams and aquifers play in the economic sustainability of the state.
A project of the Water Futures Partnership-Nebraska, Academy sessions feature classroom as well as field trip experiences presented by acknowledged experts in leadership and natural resource topics held at locations across the state.
The Water Leaders Academy is partially funded through a grant from the Nebraska Environmental Trust and more than 25 other organizations and individuals.
More information can be found at www.waterleadersacademy.org.