Sugarcane production in Brazil can benefit from using treated wastewater as irrigation source
Brazil is the world's largest sugarcane producer with more than 9 million hectares (22 million acres) cultivated each year. However, productivity is low due to insufficient rainfall and not enough water available for irrigation. A new study by Ivo Zution Gonçalves, DWFI post-doctoral research associate, and colleagues, explored the potential of using the country's abundance of treated wastewater, both for irrigation and as a nutrient source for sugarcane. The process provides additional environmental and societal impacts by reducing the amount of sewage discharged into lakes or rivers and minimizing the spread of disease.
The study compared non-irrigated crops to crops irrigated with treated wastewater and crops irrigated with surface water.. Subsurface drip irrigation was used to distribute the water, as other kinds of irrigation (like sprinkler or surface drip) are more susceptible to contamination when using treated wastewater. The nutrient balance, soil fertility, fertilizer savings and sugarcane productivity were evaluated.
In general, both irrigated plots achieved similar productivity, which were significantly higher than non-irrigated fields. The study found that treated wastewater is not only an important source of water, but of nutrients as well. The wastewater in this instance supplied nearly all of the nutrients need by the sugarcane, while the crops irrigated with surface water needed mineral fertigation (or fertilization through the crops water source). This is an important finding considering fertilization accounts for about 25 percent of the total cost of sugarcane production.
Researchers found that treated wastewater can be used in sugarcane production through subsurface drip irrigation. They stress the importance of periodic monitoring of the chemical and physical qualities of the sewage and soil. Additionally, they recognize the need for more long-term research on the effects of treated wastewater irrigation on the soil profile and plants.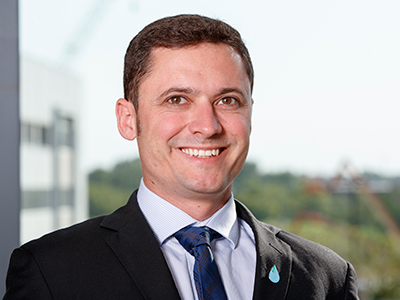 Ivo Zution Goncalves
Postdoctoral Research Associate
Daugherty Water for Food Global Institute
January 31, 2019
Nepal is known for its towering Himalayan Mountains, but the country's terrain and elevations are as diverse as the variety of people who call it home.
January 28, 2019
Researchers found that integrated modeling can be useful, but must be put into context using field studies and working with stakeholders to include cutting-edge management techniques.
January 30, 2019
Yulie Meneses and colleagues developed a way to use specialized groups of microalgae to more efficiently reduce wastewater pollutants.